Classic Lamp Conversion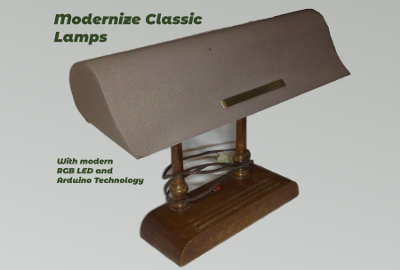 Create smart lamps or modernize old fixtures with color and white light using this Arduino compatible controller.
Control white and color (RGB) LEDs using a rotary encoder knob. An integrated motion detector input accommodates PIR or newer Radar type sensors. RS-485 network for automated, centralized control. Or can be used with PC/terminal program to set options.
Watch

the

Video
Parts used in this build
Old desk lamp
Smart Lamp Controller kit
Barrel connector for DC 12V power
DC wall mount power supply