LED Uplight, Wall mounted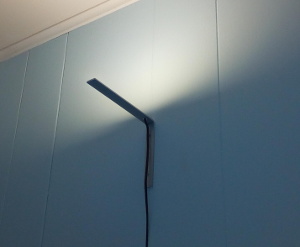 This simple uplight will add elegegance to any home or office. Add general lighting to dark areas safely and efficiently.
The light pattern can be altered easily by cutting a small strip of paper of your choice. Then make a cylinder and place it around the LED array. A wider strip of paper will make a narrow beam on the ceiling. Colored materials can be used for extra effects.
It features a 3W 'COB' (Chip on board) style warm white LED, themally bonded to the aluminium bar. Ten feet of 22AWG zip cord is supplied to connect to your LED driver.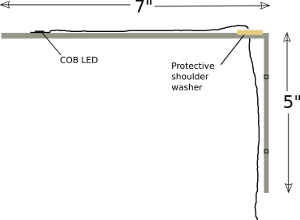 | | |
| --- | --- |
| Viewing angle | 120 degrees |
| Watts | 3 |
| Color Index | 80 |
| Color Temperature | 3000K |
Variations and custom versions are possible. Use our Contact Us page to let us know what you would like.
These products are now sold as part of consulting projects only.
For information on obtaining products you can contact us here.